This course is for students that have a background in drawing, but little to no painting experience. Drawings serve as the foundation for acquiring new painting skills and students are encouraged to develop their own ideas and goals with instructor guidance. Skills such as line, volume, space, materiality, form and function, and palette are explored through both drawing and painting. A variety of traditional and contemporary materials are used, and may include graphite, charcoal, pastels, water-based paints, mixed media, and/or collage. Visits to the Art Institute of Chicago and discussions of practicing artists will supplement the studio experience and encourage development of concepts in student artworks. By the end of the course, students have an expanded knowledge of materials and acquire the ability to transition from drawing to painting. This course is recommended for both beginners and those wanting to improve and develop their current abilities. This is a great prep course for Painting Studio. Note: Figure Drawing, Figure Painting, Painting, and Drawing courses may use nude models hired by the School. Other classes may use them to a lesser degree.
Cecilia Beaven is a Mexican artist currently based in Chicago. She has an MFA in Painting and Drawing from SAIC and was a Fulbright fellow during her graduate studies. Beaven is interested in mythology and ethnography as mutating narratives through which we approach reality. She works in painting, drawing, animation and film, with a particular fascination for big scale projects. Her artwork has been shown in group exhibitions and art fairs internationally. She has done murals in several cities in Mexico, the US, France and Japan, including a commissioned mural on the border wall between Mexico and the US in Tijuana. Beaven has had solo shows in Mexico City, Houston and Chicago.
"I would recommend this course for its total ease in which one can enter the realm of painting from drawing (even if you are not much of a sketch artist). It was fun to participate and enlightening to learn so much about other art works and skills." -Student of From Drawing to Painting with Cecilia Beaven
View the instructor's profile here!
Image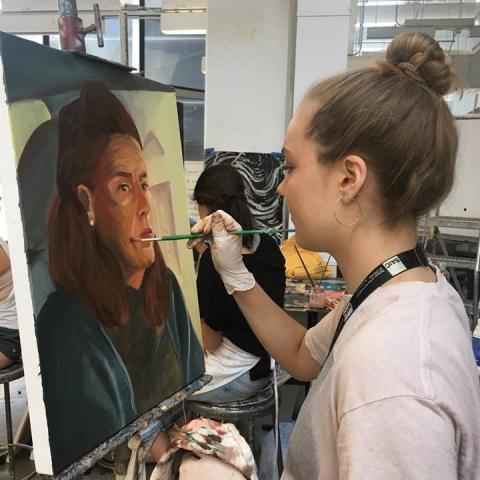 | | |
| --- | --- |
| Course start date | |
| Course end date | |
| Class meeting time | 2:00 PM - 5:00 PM |
| Class meeting days | Sunday |
| Building and room | 280 Room 318 |
| Course number | 2360 |
| Course instructor | Cecilia Beaven |