This course focuses on drawing as an exciting tool for organizing thoughts, feelings, and images. Students develop and strengthen fundamental skills, as well as investigate a range of traditional and contemporary drawing materials and concepts, exploring essential elements of 2D design and contemporary art. Through the study of line, perspective, tone, proportion, composition, value, gesture, and contour, students experiment with a number of wet and dry media such as charcoal, graphite, ink, and water-based paints. Visits to the Art Institute of Chicago and discussion of practicing artists supplement the studio experience (virtual tours of the museum are featured if online). This course is recommended for both beginners and those wanting to improve and develop their current skills and ideas. Note: In-person Figure Drawing, Figure Painting, Painting, and Drawing courses may use nude models hired by the School. Other classes may use them to a lesser degree.
"This class was super exciting and engaging! It really helped me develop my skills in a variety of mediums. The projects were fun and interesting, and really helped me harness my creativity!"
–Student of Drawing Studio
"The course's syllabus accurately reflected the content within the lessons and catered to students of varying skill levels. I enjoyed experimenting with different mediums and left the course feeling more prepared in my continued artistic pursuits."
–Student of Drawing Studio
Registration for this course is closed.
Registration for this course is closed.
Image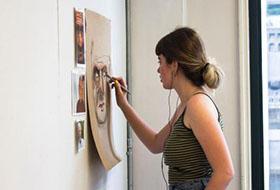 | | |
| --- | --- |
| Course start date | |
| Course end date | |
| Class meeting time | 9:00 AM - 4:00 PM CT |
| Class meeting days | Monday, Tuesday, Wednesday, Thursday, Friday |
| Building and room | 280 Building Room 323 |
| Course number | 1075 |
| Course instructor | Kate McQuillan |