This course is for students interested in exploring contemporary fashion design methods and materials rather than constructing specific garments. Students develop skills in illustrating the fashion figure, styling, draping, and fabric selection; are introduced to the history of fashion design and new research and documentation methods; and are exposed to contemporary designers and design practices. Students may explore resources such as SAIC's Fashion Resource Center, which houses a library on fashion and the history of costume, a number of individual garments and accessories of significant historical importance, and a rich collection of visual material not accessible to the general public, as well as the AIC's collection of art and textiles to develop an informed, thoughtful, and creative approach to design. The class will draw on these resources to develop unique textile and garment designs and to learn about clothing as a language, how garments communicate, and what they signify. Students can expect to gain skills in illustrating the fashion figure, styling, draping the form and developing patterns, increased knowledge of the history of individual garments, research/documentation, and exposure to contemporary designers and a selected history of fashion.
"I had so much fun and I learned a bunch of new stitches." – Student of Fashion Design
View the instructor's profile here!
Image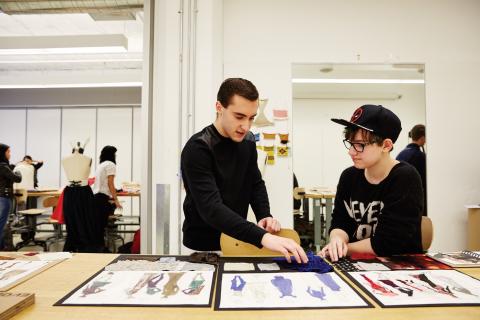 | | |
| --- | --- |
| Course start date | |
| Course end date | |
| Class meeting time | 10:00 AM - 1:00 PM |
| Class meeting days | Sunday |
| Building and room | SC 706 |
| Course number | 2351 |
| Course instructor | Anna Hovet Dias |