In this course we will explore the intersections between fashion, art, culture, and identity. First, through readings and discussion, we will interrogate the fashion system in order to better understand, deconstruct/reconstruct, and to find our own distinct voices as designers. Next we will create moodboards and illustrations related to our personal uniforms. For some, the uniform might be quite functional and related to the physical demands of the work/activities that you do each day. The uniform might also speak more to the informal, unspoken uniforms that exist within a given profession or subculture; the desire to stand out, blend in, or transform to suit the different aspects of your life;  or, the desire to streamline your life. Alternately, it might be inspired by a certain uniform archetype that speaks to you—be it a homage, reaction, or reappropriation. These suggestions are by no means prescriptive. The focus will be on your individual ideas about and definitions of uniform.
In addition to exploring the conceptual aspects of the design process (moodboard, illustration, fabric selection/creation/reclaiming/embellishment) we will also delve into the presentation of works of fashion, including the creation of an essay/artist statement conveying the meaning of your work, and discussing and conceptualizing visual representations of finished products, including photo shoots, photo montages, fashion shows and presentations, lookbooks, etc.
The goal is to better understand the meaning and importance of fashion as an art form and as a systematic structure in order to better ourselves as designers within this medium and practice.
Note: This online course is offered in a one-week intensive format. Live sessions daily will be combined with independent work time. The Canvas learning management system and Zoom video conferencing platform will be used to access course content and communicate with the instructor and peers.
Course media image
Image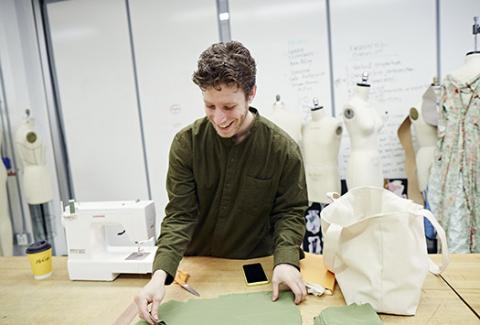 | | |
| --- | --- |
| Course start date | |
| Course end date | |
| Class meeting time | 9am-4pm CDT |
| Class meeting days | Monday, Tuesday, Wednesday, Thursday, Friday |
| Building and room | Online |
| Course number | 1552 |
| Course instructor | Jamie Hayes |