This course emphasizes the development of observational drawing skills and hand-eye coordination. The learning sequence progresses from simple forms and skill levels toward more complex compositions. Basic drawing elements such as line, proportion, perspective, composition, texture, and the study of light and shade are investigated through various perceptual and conceptual approaches. Open to beginning students as well as those who want to refresh their skills before moving on to more advanced studio courses.
Sample course outline (subject to change):
Week 1: Introduction and principles of design

Week 2-3: Composition and mark making in drawing 

Week 4: One-minute drawings and still-life

Week 5: Composition and mark making in drawing continued

Week 6: Changing point of view

Week 7: Value and gesture, perspective and space

Week 8: 3-5 Micro into macro still life project

Week 9: Abstract/analogous portrait project

Week 10: Illumination and full value still life
"Through teaching I share the enthusiasm I have for my discipline. It is a practice of presenting relevant information in an accessible and clear manner while taking into account the student's level of emotional, technical, and intellectual development…Teaching art is more than training on techniques; it is about helping individuals develop an authentic relationship with art, a personal relationship that incorporates an awareness of contemporary, cultural, and historical contexts. My teaching philosophy is to balance structure with freedom of expression and to encourage an evolution towards more conceptual and technical concerns." - Jose Andreu on teaching philosophy
"The instructor was super open and encouraging to his students of all abilities and backgrounds, had great knowledge and skill but was never autocratic about it."
– Student from Introduction to Drawing 
Registration Deadline: Wednesday, May 18 at 1 p.m. CT
Registration for this course is closed.
Course media image
Image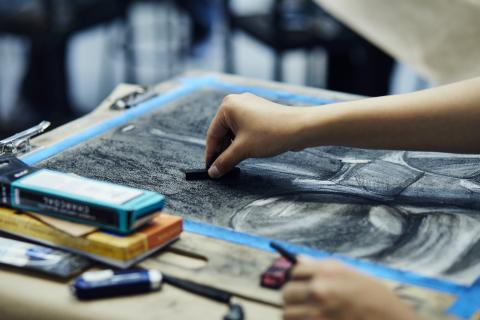 | | |
| --- | --- |
| Course start date | |
| Course end date | |
| Class meeting time | 10:00 AM - 1:00 PM CT |
| Class meeting days | Sunday |
| Building and room | 280 Building Room 318 |
| Course number | 1169 |
| Course instructor | Jose Andreu |