This course examines the fundamentals of two-dimensional design in the digital age. Students will explore principle elements of design including composition, color, and typography through a series of projects that introduce Adobe Illustrator and Photoshop as primary graphic design tools. The importance of effective visual communication in both commercial and experimental design is stressed as students gain an understanding of the professional design process from the client brief to the finished digital project. Students will leave this course with a solid foundation in strategies for solving design problems, a basic design vocabulary, and an understanding of the specific role that Adobe Illustrator and Photoshop play in creating professional work. Before starting this course, students should be comfortable creating, deleting, renaming, and moving files and directories without assistance.
Note: Access to a computer with the Adobe Creative Cloud installed is required. A free 7-day trial and monthly subscription are available at adobe.com/creativecloud.
---
"This was one of my favorite classes that I have taken while pursuing my certificate. [The instructor] integrated a variety of teaching techniques from videos, lectures, demonstration to breakout sessions. It was very enjoyable!"
-Introduction to Graphic Design online course student, Summer 2020

"The lecture/project/discussion load was perfectly balanced...Zoom worked out very well."
-Introduction to Graphic Design online course, Summer 2020

"I would definitely take an online course again! I live in the Northern suburbs and this made it so much easier to manage my work, family and learning!" 
-Introduction to Graphic Design online course, Summer 2020

"I was able to connect with my classmates more authentically than I ever expected to be able to based on online courses from my past...I really enjoyed the few open work times during the class. When I was logged into our Zoom class sessions it really did feel like a shared classroom space. It was nice to know that we were all working on our class projects in our various locations. When someone had a question about their project all they had to do was turn their camera back on and ask for help. I was able learn some things when other students would share their screen to get help from [the instructor]. It was nice to have these times in which we could choose our level of engagement with others in the class. The breakout rooms worked well for talking through our research in small groups." 
-Introduction to Graphic Design online course, Summer 2020
---
While this course is currently full, we are offering it again in December here. 
Registration for this course is closed.
Course media image
Image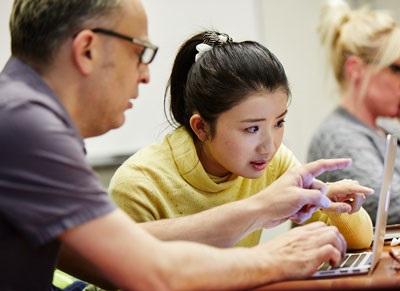 | | |
| --- | --- |
| Course start date | |
| Course end date | |
| Class meeting time | 10:00 a.m - 1:00 p.m. CDT |
| Class meeting days | Sunday |
| Building and room | Online |
| Course number | 2449 |
| Course instructor | Mark Skillicorn |