Work alongside our incredible faculty of artists, designers, and scholars to continue to refine your work in this advanced- level course, intended for students with previous drawing and/ or painting experience. You'll learn new ways to push your skills to the level by experimenting, taking risks, and deepening your research and ideas. You will explore contemporary artistic practices in a variety of media, water-based paint, charcoal, collage, or a combination of media. The course will include online demonstrations geared to your passions, visiting artist presentations, online museum resources, as well as time for self-directed work and comprehensive faculty advising. You?ll engage in discussions and critiques with a vibrant online community of other students from throughout the country and around the world, create portfolio-quality work, and receive comprehensive guidance on developing competitive applications for college admissions to art and design programs. This course is highly recommended following 3-week Drawing/Painting/Comics and Graphic Novels. Painting and/or drawing experience and ability to work independent of specific assignments required.
"I enjoyed the assignments and thought they provided a substantial challenge that helped me see improvement in my work very quickly. This course introduced me to several new mediums, and it taught me new techniques for mediums I already use. I gained valuable feedback on my work and learned a lot on how to further develop my style and learn what I like to create most... I felt included and allowed to learn and make mistakes, and felt comfortable in being able to change my ideas or direction with my work."
– Student of Online: Advanced Drawing and Painting Projects, Summer 2021



2.0 College Credit
Full Tuition Cost: $3,480
This cost does not reflect any potential Merit Scholarship or need-based financial aid the student may be awarded.
---
There are two registration options for this course. Call us at 312.629.6170 or email cs@saic.edu if you have any questions! We're happy to help.
Option 1: Apply for aid/scholarships and pay a $100 non-refundable tuition deposit.
Select this option if you would like to apply for merit scholarship and/or need-based financial aid. You will be prompted to answer follow up questions on the next few screens, and pay the $100 non-refundable tuition deposit at checkout. Once you have been notified of your potential award amounts, you will be required to pay your remaining balance online by our payment deadline.
Option 2: Pay in full now.
Select this option if you do not wish to apply for aid or scholarships and are ready to pay in full now for tuition. You will be prompted to answer follow up questions on the next few screens, and pay the full cost of tuition at checkout. The full cost of the program tuition includes a $100 non-refundable tuition deposit.

The registration deadline is June 10 at 1 p.m. CT
Image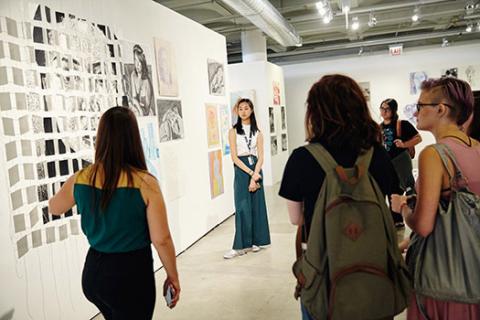 | | |
| --- | --- |
| Course start date | |
| Course end date | |
| Class meeting time | 9:00 AM - 3:00 PM CT |
| Class meeting days | Monday, Tuesday, Wednesday, Thursday, Friday |
| Building and room | Online |
| Course number | 1014 |
| Course instructor | Rebecca Walz |