You bring your creative interests, Architecture, Interior Architecture, Designed Objects, and Visual Communication Design, and our incredible faculty of artists, designers, and scholars will work one-on-one with you to push your skills to the next level. You will learn about contemporary designers and build design skills from drawing, drafting, researching, and ideation. We will introduce you to both traditional materials as well as software such as Adobe (Illustrator, InDesign, and Photoshop). The course will include online demonstrations geared to your passions, visiting artist presentations, online museum resources, as well as time for self-directed work and comprehensive faculty advising. You'll be introduced to both concepts and processes to storyboard and develop narratives. You'll engage in discussions and critiques with a vibrant online community of other students from throughout the country and around the world, create portfolio-quality work, and receive comprehensive guidance on developing competitive applications for college admissions to art and design programs.
"This was my first time doing an online summer program and I thoroughly enjoyed it! I live in London so being able to virtually participate in a course in the US was really great. I thought that the content was interesting and explored very well each day. I am very grateful for this experience as it broadened my knowledge of design and design concepts as a whole. This program on the whole was so interesting and I feel I greatly benefitted!"

– ECPOSI Design Projects Online student, Summer 2020

1.0 College Credit
Full Tuition Cost: $1,740
This cost does not reflect any potential Merit Scholarship or need-based financial aid the student may be awarded.
---
There are two registration options for this course. Call us at 312.629.6170 or email cs@saic.edu if you have any questions! We're happy to help.
Option 1: Apply for aid/scholarships and pay a $100 non-refundable tuition deposit.
Select this option if you would like to apply for merit scholarship and/or need-based financial aid. You will be prompted to answer follow up questions on the next few screens, and pay the $100 non-refundable tuition deposit at checkout. Once you have been notified of your potential award amounts, you will be required to pay your remaining balance online by our payment deadline.
Option 2: Pay in full now.
Select this option if you do not wish to apply for aid or scholarships and are ready to pay in full now for tuition. You will be prompted to answer follow up questions on the next few screens, and pay the full cost of tuition at checkout. The full cost of the program tuition includes a $100 non-refundable tuition deposit.
The registration deadline is June 10 at 1 p.m. CT
Image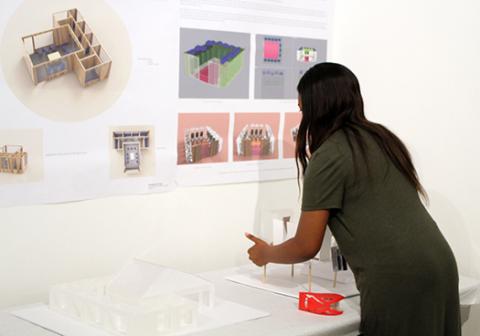 | | |
| --- | --- |
| Course start date | |
| Course end date | |
| Class meeting time | 9:00 AM - 12:00 PM CT |
| Class meeting days | Monday, Tuesday, Wednesday, Thursday, Friday |
| Building and room | Online |
| Course number | 1016 |
| Course instructor | David Thomas |