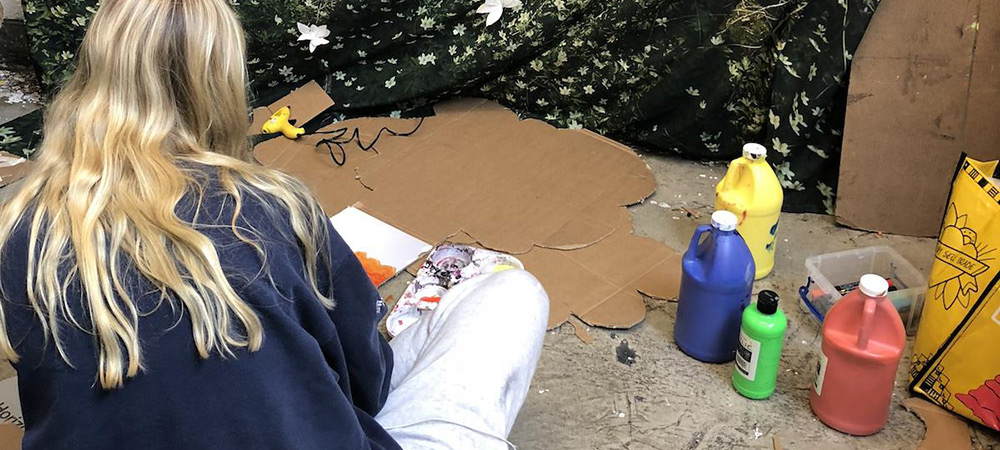 Early College Program Online Summer Institute
The deadline to apply for the Merit Scholarship and Need-Based Aid is May 20, 2020!
Session 1: June 8- June 26 (3 weeks, 1 college credit)
Session 2: June 29 - July 17 (3 weeks, 1 college credit)
Session 3: July 20 - Aug 7  (3 weeks, 1 college credit)
Session 4: June 29 - Aug 7 (6 weeks, 2 college credits)
We're very excited to be launching our Early College Program Online Summer Institute, led by our highly acclaimed faculty of artists and designers who have adapted their course content to a virtual platform.  You will join peers from around the globe to create portfolio quality work, deepen your understanding of contemporary art making, and earn college credit.  Experience dynamic virtual demos, engage in group critiques, and receive the ideal blend of one-on-one meeting time with faculty, and independent exploration. 
Join us for one session or all three! We've designed the courses so you can continue to dig deeper into your projects if you enroll in multiple sessions.
Courses
Online: Drawing/Painting/Comics and Graphic Novels
Online: Animation and Video Projects*
Online: Interdisciplinary Projects
Online: Design Projects*
Online: Advanced Drawing and Painting Projects
Online: Advanced Interdisciplinary Projects
Online: 2D Animation*
Online: Experimental Drawing
Online: Alternative Comics and Graphic Novels
Online: Visual Communication Design
Online: Fashion Design
Online: Writer's Studio
Note: Students are required to have their own computer.
*If enrolled in Animation and Video Projects, Design Projects, 2D Animation, or Visual Communication Design, you will be provided with a month long subscription to Adobe Creative Cloud. To support this, you will need a machine that runs Microsoft Windows 10; Mac OS X v10.12 or later. 
Course Highlights
Work with our amazing faculty of practicing artists, designers, and scholars
Earn college credit that may transfer to any college you attend.
Connect with visiting artists from around the globe
Collaborate with students from across the United States and around the world
Prepare a competitive portfolio for college admission
Participate in a virtual exhibition which will be publicized on SAIC's main social media channels
Special Benefits for Students Applying to SAIC for Fall 2021
Robust faculty and admissions application advising, including merit portfolio preparation advice
Guaranteed one-time $1000 scholarship to students who successfully complete the program and enroll at SAIC
The opportunity to receive your admission decision by September 1, earlier than any other SAIC applicant , providing that you have submitted all of your application materials
An optional workshop focused on preparing a digital portfolio and website
Students must be at least 15 years old and not older than 18 years and have completed their sophomore year of high school to enroll.