Grounded in an interdisciplinary approach, students in this advanced course explore a range of creative strategies used by contemporary artists as a way to develop ideas and create strong, portfolio-quality work. This course is designed to introduce students to a number of new media, materials, and methods to expand skills in areas such as drawing, painting, sculpture, installation, video, sound, and performance. With faculty guidance and peer support, students develop individual projects, learn to articulate their ideas verbally and in writing, and develop strategies to produce work that fully represent them as artists. Artist presentations, critiques, and field trips supplement studio coursework. This course is intended for students that have previous experience and a deep interest in the visual arts, want to add new work to their portfolio, and are comfortable working independently from specific assignments using interdisciplinary practices. Artwork and performances that are temporary in nature or that cannot be easily transported will be properly documented through photography and video.

*NOTE: Previous experience in art/design and the ability to work independently of specific assignments required. SAIC provides basic equipment for this course, but students are encouraged to bring their own digital camera, tablet, and/or laptop for homework and after-studio hours projects.

4.0 College Credits
Full Tuition Cost: $6,664
This cost does not reflect any potential Merit Scholarship or need-based financial aid the student may be awarded. Housing is an additional cost.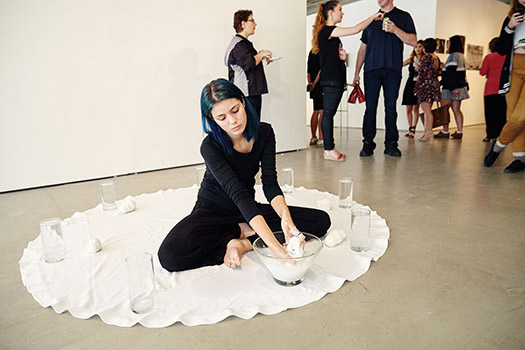 | | |
| --- | --- |
| Course start date | |
| Course end date | |
| Class meeting time | 9:00 AM - 4:00 PM |
| Class meeting days | Monday, Tuesday, Wednesday, Thursday, Friday |
| Building and room | Sharp 407 |
| Course number | 1039 |