What function do objects serve in the world today? How are objects created or improved? This course introduces the ideas, skills, and methods used in the process of designing objects. Students study designers who explore the world looking for ways to solve everyday problems, such as Jose Gomez Marquez from M.I.T., who re-purposes toys to create medical devices for developing countries; or IDEO, a company that designed the Node Chair, a reconfigurable seat that complements the way students learn and the tools they use. Through methods such as drawing, modeling, and rapid prototyping, students learn how design decisions are made, with a focus on aesthetic, material, scale, sustainability, production, and cultural concerns. Hand drafting techniques, 3D modeling software (Rhino), laser cutting, 3D printing, and/or the Adobe Creative Suite may also be utilized for projects. Presentations from visiting designers and field trips to the Art Institute of Chicago's design wing and SAIC's technology resource centers will supplement the studio experience.
*NOTE: Basic drawing skills and computer experience required. Some 3D software modeling experience and familiarity with Adobe Creative Suite is helpful. SAIC provides computers with the appropriate software, but students are also encouraged to bring their own laptop with software such as the Adobe Creative Suite, digital camera, and/or tablet for after-studio hours and homework.

2.0 College Credits
Full Tuition Cost: $3,332  
This cost does not reflect any potential Merit Scholarship or need-based financial aid the student may be awarded. Housing is an additional cost.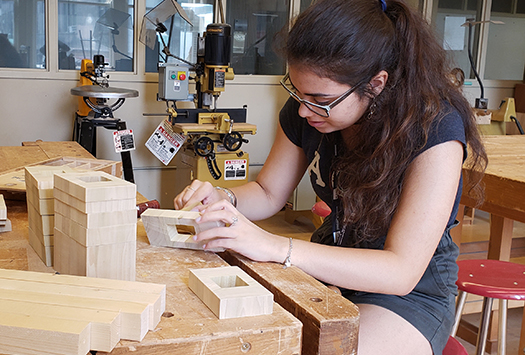 | | |
| --- | --- |
| Course start date | |
| Course end date | |
| Class meeting time | 9:00 AM - 4:00 PM * 6:00 PM - 8:00 PM |
| Class meeting days | Monday, Tuesday, Wednesday, Thursday, Friday |
| Building and room | Sullivan Center 1406A |
| Course number | 1015 |